In real estate, you make money when you buy. Conducting comprehensive due diligence is the most important step in the acquisition process. Even a small oversight in DD can create DISASTROUS ripple effects down the road.
Even when you have it right, airtight research & analysis won't protect you from faulty collateral. A perfect note on the seller's tape without original, enforceable documents might be worth nothing.
Everyday, files are traded around the secondary market with original documents in disarray, missing proper endorsements, servicing records or RESPA procedure.
ZERO TOLERANCE for MESSY COLLATERAL
 SIMPLIFY & OPTIMIZE with FIXnotes
the FIXnotes ADVANTAGE
Whether you'd like to maximize the value of your portfolio or analyze notes for sale, FIXnotes research, analytics & data design will take your investing career to the next level.
Our flagship offering [in development] combines a suite of resources into FOUR CORE REPORTS to comprehensively review & refine your asset into actionable, decisive intelligence. Each one-page, legal sized (11″x14″) report serves as a summary divider for your original collateral, vendor research, servicing files & legal documents.
---
Every FIXnote begins with ASSET VITALS.
Starting with our signature legal sized summary page outlining your investment, this is where you'll find your expected yield, equity & critical status flags followed by verification of enforceable, original documentation.
---
Our DUE DILIGENCE is second to none.
Enclosed you'll find updated title, property value, tax, credit & skip trace. Aggregated data is calculated into an estimated market value for your asset.
Review the raw data & vendor reports included or simply check out the summary page to "look under the hood without getting your hands dirty."
---
Asset MANAGEMENT on one beautiful 11″ x 14″.
Included within this section are your borrower's payment, contact history, resolution agreement, proof of insurance, authorizations & most recent statements. We'll communicate with your servicer to get all the details, then share our findings with you.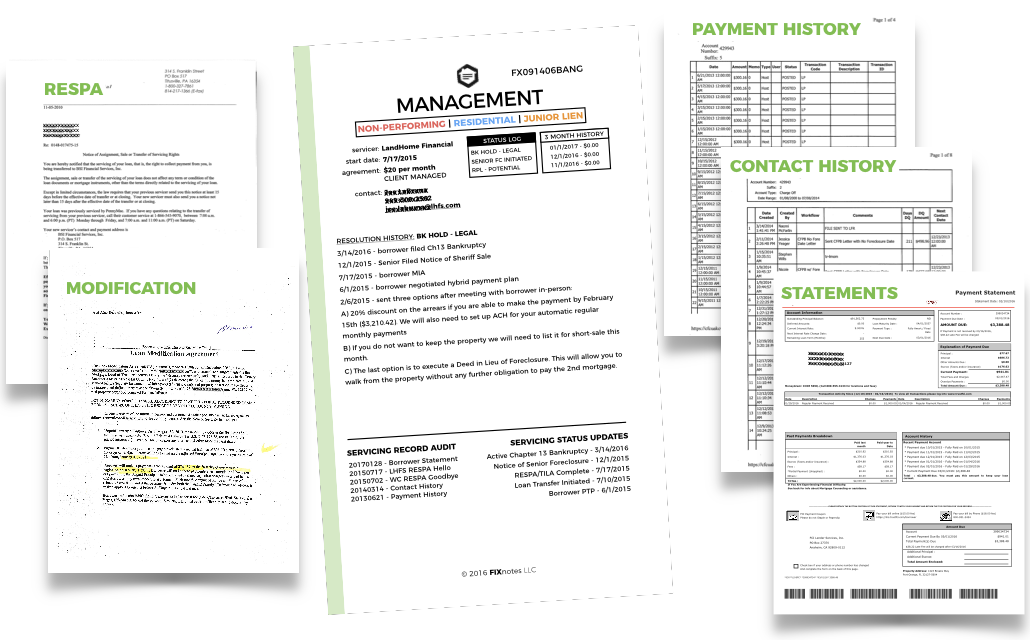 ---
Stay ahead with LEGAL + BANKRUPTCY.
Every FIXnote includes an organized review of all your critical legal situations. After you connect us directly with your legal counsel, we'll talk shop and summarize the situation in the simplest terms, preparing you for action.